DigiCert - Extended Validated SSL - 1 Year
An SSL (Secure Socket Layer) Certificate adds a layer of security to protect the exchange of sensitive information between a web browser and a server. This standard security protocol encrypts usernames, passwords, credit card numbers, or other sensitive information shared online, keeping it safe from a potential attacker.
MSRP: $295.00
Buy Now
Product features & benefits
Extended Validation SSL Certificate from DigiCert
EV SSL Certs for Ultimate Protection & Value in SSL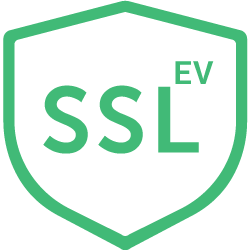 EV SSL Certificates from DigiCert provide the ultimate in fraud protection, SSL authentication, and cert value. Extended Validation SSL certification is designed for organizations with a compelling need to protect their clients from a wide variety of security threats. Improve Conversion Rates and Customer Confidence with Green Bar Assurance Learn more about DigiCert's EV Certificates

Extended validation (EV) certificates use the highest level of authentication and were specifically created to boost and maintain customer confidence in ecommerce through a rigorous verification process and specific, EV certificate-only browser cues like the green address bar. EV certificates incorporate some of the highest standards for identity assurance to establish the legitimacy of online entities. DigiCert puts applicant websites through rigorous evaluation procedures and meticulous documentation checks to confirm their authenticity and ownership.

Green Means TRUST
To let users know that a website has an EV certificate, browsers show more visual cues for sites secured with EV certificates. EV certificates include the following visual benefits: 
Green in the address bar (green bar or issuance name, see below)
Website owner's company name in the address bar
https:// at the beginning of the domain name
Padlock in the address bar
Organization information in the certificate details

For over a decade, DigiCert has provided SSL Certificates and SSL management tools for the largest e-commerce sites, government agencies, and technology companies. We were a founding member of the CA/Browser Forum, and assisted in the development of extended validation certificates. Supporting more than 115,000 organizations in over 180 countries, DigiCert secures over two trillion online transactions and provides certificates for six of the Alexa Top Ten organizations.
Buy Now
We recommend this product for...