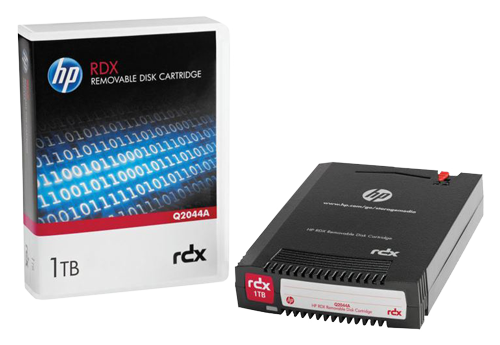 HP - RDX 1TB Cartridge Removable Disk
The HP RDX Removable Disk Cartridge is based on removable disk technology that handles and operates like traditional tape media, yet has all of the advantages of a disk backup. The Cartridge allows for backups to be accomplished with the standard Independent Software Vendor (ISV) or Continuous Data Protection (CDP) software
MSRP: $267.71
Buy Now
Product features & benefits
Price does not include Tax..
To be used with HP - RDX+ EXTERNAL DOCKING SYSTEM
The 1TB RDX Removable Disk Cartridge from HP is a removable hard disk drive (RHDD) based cartridge that combines features of disk and tape storage for small business customers. It is rugged, portable, removable, and easy to implement. You can drag and drop, backup and restore files with 360 GB/hour transfer rate (uncompressed data), using USB 3.0 technology. The cartridge is designed for long life usages over 5,000 load/unload insertions. This shock proof cartridge features broad compatibility with a wide range of servers and operating systems, internal or external, and is interchangeable in any HP RDX Removable Disk Backup System. It is also compatible with other branded RDX backup systems. 
The cartridge allows for backups to be accomplished with standard Independent Software Vendor (ISV) or Continuous Data Protection (CDP) software. Installation is easy and quick by connecting the industry standard form factor RDX Removable Disk Backup System, either internally or externally, to a server or workstation. It provides a complete backup solution that backs up and retrieves data thus, optimizing application availability and staff productivity.
Buy Now
We recommend this product for...